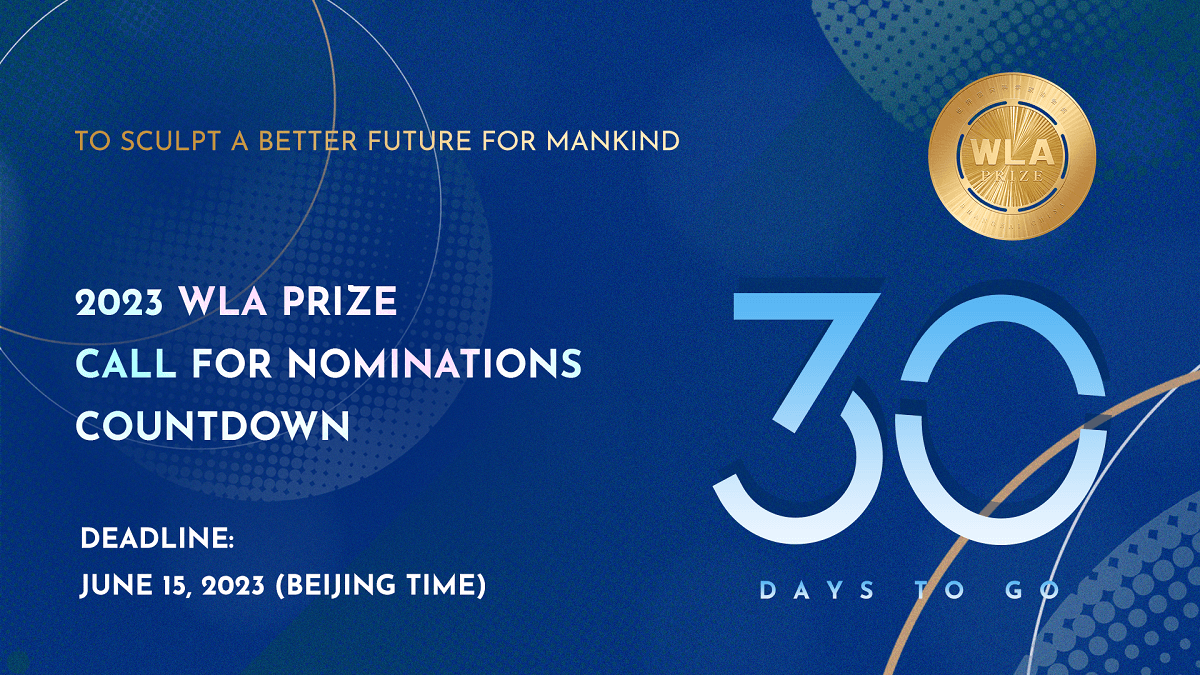 Nominate Now: 2023 WLA Prize Online Nomination Portal
Click to read Nomination Guidelines and FAQs
Only 30 days to go, nominations for the 2023 WLA Prize are being accepted until June 15, 2023 (Beijing Time). Nominators can submit their nominations via the WLA Prize Nomination Portal. The 2023 WLA Prize Laureates Announcement is scheduled in late August or early September, followed by a grand Award Ceremony during the 6th WLA Forum in Shanghai, China, this November.
The WLA Prize aims to recognize and support eminent researchers and technologists worldwide for their contributions to science. It is intended to support global science and technology advancement, address the challenges to humanity, and promote society's long-term progress.
The WLA Prize is awarded annually and features two categories: "Computer Science or Mathematics" and "Life Science or Medicine." The total award for each prize, which may be divided among up to four laureates, is RMB 10 million.
When it comes to the responsibility of the selection committee and the criteria, the two Chairs, Michael I. Jordan, Chair of the 2023 WLA Prize Selection Committee in Computer Science or Mathematics, Professor of the Department of Electrical Engineering and Computer Sciences & Department of Statistics, UC Berkeley and Randy Schekman, Chair of the 2023 WLA Prize Selection Committee in Life Science or Medicine, 2013 Nobel Laureate in Physiology or Medicine, Professor of Cell and Developmental Biology, UC Berkeley have both agreed that the WLA Prize shouldn't be copying the well-known prizes which award those who have already been recognized.
"Instead of simply recognizing scholars who have already been recognized by international awards, we wish to find people before they have been identified" says Prof. Schekman when describing the selection criteria of the WLA Prize, which differs from other major science prizes.
Echoing Prof. Schekman, Prof. Jordan defines the prize as being designated to acknowledge those who "find a new way, take a new kind of challenge" to discover the technologies and sciences that are emerging and envisioning. Furthermore, he adds that "I don't want people to see only computer science from this Prize, but also mathematics." Prof. Jordan highlights the impact of applied mathematics, which shines light on computer science that has not been fully appreciated so far.
Thinking deeply and acting globally, the prize inspires people to think of how new technologies can be applied to address problems in real life and the emerging trends that are representative of the era. "Push technology in ways that are geared to help people. Let's just not wait for it to happen; let's help to drive it," says Prof. Jordan.
Being the Chair of the WLA Prize Selection Committee "is an honor, and it's more of a responsibility," according to Prof. Jordan. In conformity with its international nature, the Selection Committees have been working hard to identify candidates who have made profound contributions, but may have been overlooked due to their geography or background.
As a young prize, being truly international doesn't prove to be that easy, but Prof. Jordan still feels optimistic about gaining international recognition: "It's a significant prize. Within five years, I think there will be many nominations and excitement about what's going to happen about the prize." Enjoying the communication platform that the WLA Forum has provided, the WLA Prize will surely bring more people together to cooperate for the common welfare of mankind. "The more we cooperate, the more all people are going to be benefited" according to Prof. Jordan.
Embracing the diversity, the WLA Prize renders access to new relations and explorations of new fields or sub-fields, while aspiring the researchers and scientists. All nominations are welcomed, and the prize is open to all. The nomination for the 2023 WLA Prize will remain open until June 15, 2023 (Beijing Time). Join us to sculpt a better future for mankind.

About Us:
The World Laureates Association (WLA)
The World Laureates Association (WLA) is a non-governmental and non-profit international organization. It is one of the world's highest-profile organizations of laureates with three missions: advocacy for basic science, promotion of international cooperation, and support for young scientists. Upholding the vision of "Science and Technology for the Common Destiny of Mankind," the WLA is committed to enhancing the academic exchange of ideas and research among scientists and scholars in China and the world.
The WLA Foundation
The WLA Foundation is a non-public charitable foundation that supports all WLA missions and activities by bringing together social forces.
Sequoia China
Sequoia China helps daring founders build legendary companies. In partnering with Sequoia, companies benefit from its unmatched community and the lessons Sequoia has learned over the years. As "The Entrepreneurs Behind The Entrepreneurs", Sequoia China focuses on three sectors: tech, healthcare and consumer. Over the past 18 years, Sequoia China has had the privilege of working with more than 1000 companies. It is committed to advancing innovation in science and technology. It actively supports scientists and entrepreneurs, promotes technological innovation, and nurtures leading tech-enabled enterprises, with a concern for corporate social responsibility. As the exclusive sponsor of the World Laureates Association Prize (WLA Prize), Sequoia China hopes that its support will encourage the pursuit of innovative scientific developments and drive growth across the world.
Follow us on Twitter @thewlaprize and Facebook @thewlaprize.