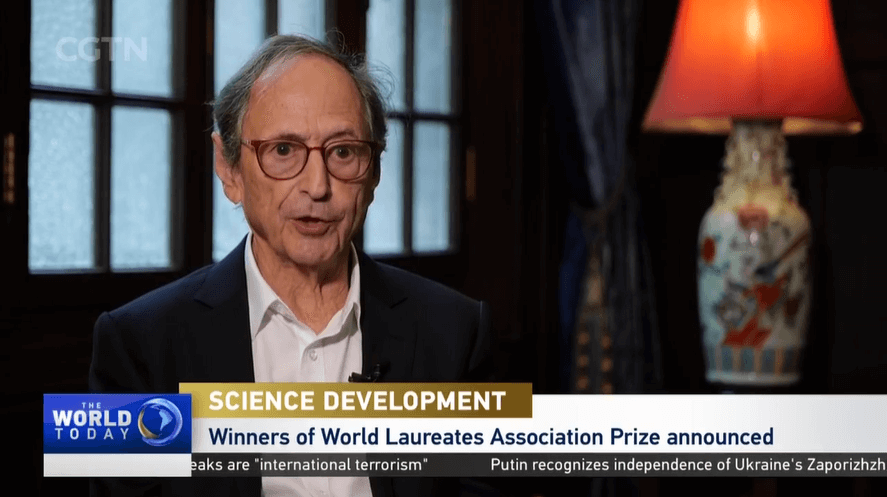 By WANG SIWEN/CGTN
The World Laureates Association has announced the two winners of its new prize for contributions to science. Michael I. Jordan won the prize for Computer Science or Mathematics and Dirk Gorlich won the prize for Life Science or Medicine. They each receive 10 million yuan – about 1.4 million U.S. dollars. Our reporter Wang Siwen spoke with Michael Levitt, the association's vice chairman.
WANG SIWEN CGTN Reporter "The top prize at this year's World Laureates Association is nearly 1.4 million USD. Why was this award set up? Among global nominations, which scientist or project impresses you the most?"
MICHAEL LEVITT Vice Chairman World Laureates Association "I'm most impressed by the choice of the two winners. I'm mostly impressed that the fields include mathematics, computer science, as well as life, science, medicine. So Michael I. Jordan has provided this background of artificial intelligence, which we're now using, but we want to know that it's secure, and by providing the mathematical background, people can prove how much the system can learn, at what speed the system can learn and so on, that's very very important.
"The prize in life science and medicine is also very important. I myself was actually unaware both of professor GÖRLICH and of this area of gels like jelly that controls partitioning in cells,, and I think in choosing these people who have not yet been recognized, but who seem to me to be absolutely top notch is extremely good."
WANG SIWEN CGTN Reporter "The fifth World Laureates Forum is right around the corner, what can we expect from the upcoming event?"
MICHAEL LEVITT Vice Chairman World Laureates Association "So I have been very lucky at being at all four forums in person. That's actually unusual, and everyone has been surprising in different ways. I think that this forum, maybe the biggest surprise is that it's going to happen.
"Last year there was a wonderful session on the role of women in science called 'her' symposium. I was so excited by that because it was different. I think that the role of the WLA which is to promote science to everyone, but especially to groups that maybe haven't been recognized enough. It's certainly one thing you could say about the WLA prize, I don't know any other prize that's given by an association of laureates as broad as this one, and I think really wonderful."